DR. RUTH DIELEMAN-LEVINE
Dr. Ruth Dieleman-Levine is a trained General & Cosmetic dentist, serving adults and children. She was born and raised in The Netherlands (Holland). She received her DDS degree from the Academic Center of Dentistry in Amsterdam (ACTA) in 2003. She started out her career working as a General Dentist treating the underserved pediatric population in The Netherlands.
In 2004, Dr. Dieleman-Levine moved to New York City, after marrying her Husband. She was accepted into the AEGD post-graduate program at Columbia College of Dental Medicine, which is an advanced education program in General Dentistry, in order to receive her New York State dental license.
After starting her own practice in Manhattan in 2008, serving Adults and Children for 12 years, Dr. Dieleman-Levine recently decided to relocate her practice to Westchester, NY (in the town of Harrison, NY… which is only 30 minutes from Manhattan). Dr. Dieleman-Levine made this decision during the Coronavirus Pandemic, with a desire to be closer to her family and to offer her Patients a state of the art Dental practice that is also more accessible to serve her community's dental needs. Dr. Dieleman-Levine's current patients live in all 5 Boroughs of New York, as well as New Jersey and Connecticut, and felt that having a Modern dental practice in Harrison, NY would be a good location for all of her current patients to continue to see Dr. Dieleman-Levine. She is very excited to now also have more of an opportunity to treat individuals and families from her hometown of Larchmont, NY.
Dr. Dieleman-Levine is passionate about dentistry, and wants you to know how important it is that she earns your trust. She takes her time with every appointment, to get to know you as an individual and your family, and to address your fears, needs and desires. Dr. Dieleman-Levine only sees 1 patient at a time, and loves it when the entire family comes at once for their biannual visit, which is why she also works on Saturdays. She stays up to date with current techniques and literature and attends multiple dental conferences and lectures each year. Since she has been trained as a General dentist in two different continents, she brings the best of both worlds to her practice.
Dr. Dieleman-Levine's motto is to 'educate and inspire a patient to take great care of his/her teeth on a daily basis so that they understand the importance of a healthy mouth'. She has been a success knowing that a vast majority of her patients return for their every 6 Months deep cleanings with no new cavities or any other dental issues. A healthy mouth is most definitely a healthier life!
Dr. Dieleman-Levine was also the founding president of the Westchester branch of a non-profit organization called 'GiGi's Playhouse', which is a Down syndrome achievement center for children and adults living with Down syndrome.
Dr. Ruth Dieleman-Levine lives with her husband and 4 children in Larchmont, NY.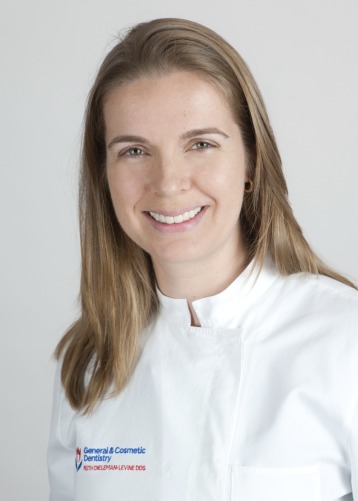 EXPERIENCE AND RECOGNIZED
On March 30, 2007 Dr. Ruth Dieleman-Levine received a prestigious award from the American Academy of Cosmetic Dentistry for Excellence in Cosmetic Dentistry for one of her Veneer cases. She has over 17 years experience as a General and Cosmetic dentist serving adults and children in The Netherlands, Manhattan and now Westchester, NY (Harrison, NY). While understanding that a visit to the Dentist is not something everyone looks forward to, especially Kids, Dr. Ruth Dieleman-Levine will make sure your visit is as relaxing and comfortable as possible, with a modern office and a level of care that will be hard to find elsewhere. She wants to make sure your smile is always at your best!